Member Highlights
This page is dedicated to highlighting programs and projects within the Back to Nature Network. We are excited to share details of these programs with you to inspire your daily work and generate conversation within your network!
Evergreen – School Ground Greening Program
Evergreen strongly believes that a child's connection to their environment is a key component to their physical, social, and cognitive health and development. Our School Ground Greening Program supports school communities in creating and sustaining healthy and dynamic outdoor play and learning environments. With expert advice from Evergreen Design Consultants, school communities are supported through the planning, design, installation and maintenance phases of their projects. Comprehensive guidelines and teacher training programs support the consistent development and curriculum integration of green school grounds. Last year, over 540 schools were supported through our School Ground Greening Program and 1,416 trees and shrubs were planted. If your school is interested in applying, please check out Evergreen Funding Opportunities page.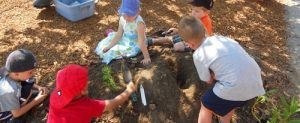 Greening Sacred Spaces – Community Gardens
Greening Sacred Spaces offers resources and inspirations on their website around starting a community garden. Community gardens are a way to show your faith in action through outreach to the community, and can be combined with other programs and community engagement such as seed-saving and seed-swap events, contributions to your local food bank, hosting local food or 100 mile dinners, or even offering canning or food preparation workshops in your kitchen, using produce from your faith community's gardens and sharing intergenerational knowledge and skills.
Check out their Community Garden page here for more information and resources, such as their free Edible Faith Community Garden Guide (direct PDF link).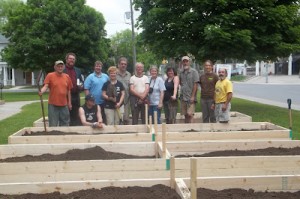 Access the Archive of our Monthly Member Updates: